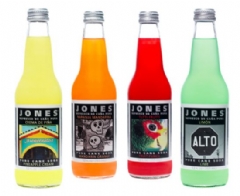 Jones Soda Co. celebrates Hispanic heritage with new flavors
SEATTLE, Wash. – Jones Soda Co. is excited to introduce a new collection of Spanish labels and soda flavors honoring the culture and spirit of Hispanics living in America. This collection stems from numerous requests from Jones Soda fans, and features Spanish labels and images that celebrate the community and Hispanic artwork.
"Jones Soda is thrilled that fans from the Hispanic community have reached out to us, and we are very excited about our fun new flavors," said Joth Ricci, COO of Jones Soda. "Jones Soda's ability to customize our labels allows us to participate in the celebration of this amazing community in a unique and special way."
Jones Soda is known for their ability to make personal connections with consumers through their patented labeling system that enables them to select submitted photos from fans to showcase on bottles, as well as allows people to create customized bottles at http://www.myjones.com .
The specialty sodas will be available in the following new flavors: Naranja Mandarina, Limón, Tutti Frutti and Crema de Piña. It will debut in the single-serve sections of select retailers in Los Angeles, San Diego and Arizona.
For more information visit http://www.jonessoda.com .
About Jones Soda Co.:
Headquartered in Seattle, Washington, Jones Soda Co. markets and distributes premium beverages under the Jones Soda, Jones Pure Cane Soda, Jones 24C, Jones GABA, Jones Organics, Jones Naturals and Whoopass brands and sells through its distribution network in markets across North America. A leader in the premium soda category, Jones is known for its variety of flavors and innovative labeling technique that incorporates always-changing photos sent in from its consumers. For more information visit http://www.jonessoda.com and http://www.myjones.com .
Source: Richmond Public Relations
https://hispanic-marketing.com/wp-content/uploads/2010/03/hispanic_jones.jpg
196
240
Target Latino
https://hispanic-marketing.com/wp-content/uploads/2014/09/targetlatino-enfold-logo1.png
Target Latino
2009-06-18 10:10:37
2018-05-18 19:40:07
Jones Soda Co. celebrates Hispanic heritage with new flavors