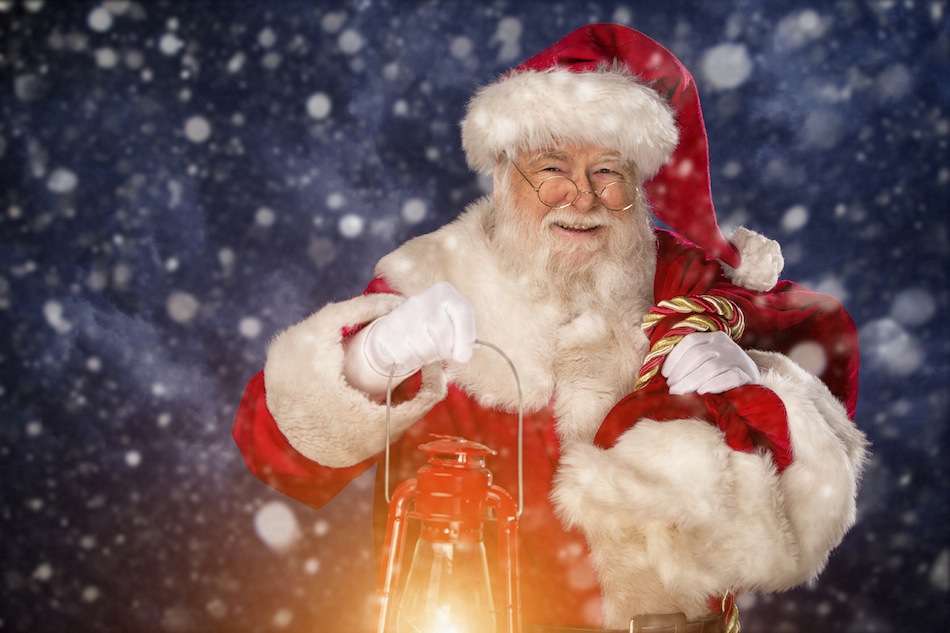 Hispanics Celebrate Christmas In Uncertain Economic Times
The Heart of the Holidays
When it comes to the holidays, Hispanic families have always relied on traditions to celebrate the season. Whether attending Posadas, preparing special family recipes, or just getting together to share memories, traditions strengthen family ties and make the season more special. And during this recession, more than half (52 percent) of Hispanics feel that holiday traditions become more important in difficult economic times, according to a new survey* commissioned by Sears.

"This holiday season more than ever, Americans are getting creative with how they will make the most of, and, celebrate their holidays with everything from adopting new traditions to altering the way they shop," said Don Hamblen, Sears' chief marketing officer. "Sears is a company known for its long-standing traditions so we understand just how important traditions are to families. Whether it's a new twist on an old favorite or something entirely new, Sears continues to look for ways to bring value to our customers this holiday season by helping them create and keep family traditions."
Nearly all Hispanics (94 percent) plan to practice new traditions, especially when it comes to the gifts they will give. Among those practicing new traditions:
Nearly three in five (59 percent) will set a price limit on presents
Others will use a grab bag approach (20 percent) or give gifts from a whole group of people to share the costs (15 percent)
Many (48 percent) also plan to alter the way they shop this holiday, taking advantage of everything stores have to offer, such as:

Sales and coupons (91 percent)
Layaway plans (33 percent)
0% financing options (23 percent)
Shop at discount stores (81 percent), and
Venture out to shopping malls on "Black Friday" (57 percent)
No matter what changes they will make, many Hispanics admit that a holiday without traditions would be worse than a holiday without gifts (52 percent)
This year, the celebrated Sears Holiday Wish Book, a long-time shopping tradition for families to make their Christmas wish lists, is being spiced up with the launch of an interactive, online version available at www.sears.com/wishbook. And for those consumers planning to buy more group gifts this year, the Sears Give Together program offers an easy way for them to do so.
Another long-time tradition, Black Friday, is made easier this year with Sears' "Black Friday Now!" doorbusters – providing earlier savings on everything from home electronics and kitchen and housewares to jewelry and apparel – on each of the five consecutive Saturdays leading up to Thanksgiving. Sears also offers layaway, which is available both in-store and online, enabling customers to reserve holiday gifts, including Black Friday Now! doorbusters, pay for them over time and pick them up right before the holidays.
ShopYourWay(TM) serves to change traditional holiday shopping altogether by giving customers a wide-variety of new, convenient ways to shop. Sears ShopYourWay offers personalized and convenient shopping options which allows for shopping to revolve around the customer 24/7. With convenient options such as Web2Store and Sears' Personal Shopper, customers can get what they want, when they want and how they want when they shop in store or online.
For more information, visit www.sears.com.
*An online survey of 400 nationally representative Hispanics ages 18 and older
About Sears, Roebuck and Co.
Sears, Roebuck and Co., a wholly owned subsidiary of Sears Holdings Corporation (NASDAQ: SHLD), is a leading broadline retailer providing merchandise and related services. Sears, Roebuck offers its wide range of home merchandise, apparel and automotive products and services through more than 2,300 Sears-branded and affiliated stores in the United States and Canada, which includes approximately 929 full-line and approximately 1,200 specialty stores in the U.S. Sears, Roebuck also offers a variety of merchandise and services through sears.com, landsend.com, and specialty catalogs. Sears, Roebuck offers consumers leading proprietary brands including Kenmore, Craftsman, DieHard and Lands' End — among the most trusted and preferred brands in the U.S. The company is the nation's largest provider of home services, with more than 12 million service calls made annually. For more information, visit the Sears, Roebuck website at www.sears.com or the Sears Holdings Corporation website at www.searsholdings.com.
About the Survey
The Sears Holiday Traditions Survey was conducted by Kelton Research between Oct. 16, 2009 and Oct. 22, 2009 using an email invitation and an online survey. Quotas are set to ensure reliable and accurate representation of the Hispanic U.S. population ages 18 and over. Results of any sample are subject to sampling variation. The magnitude of the variation is measurable and is affected by the number of interviews and the level of the percentages expressing the results. In this particular study, the chances are 95 in 100 that a survey result does not vary, plus or minus, by more than three percentage points from the result that would be obtained if interviews had been conducted with all persons in the universe represented by the sample.
SOURCE Sears Holdings
Photo courtesy: iStockPhoto
https://hispanic-marketing.com/wp-content/uploads/2009/11/Santa-Claus.jpg
633
950
Havi Goffan
https://hispanic-marketing.com/wp-content/uploads/2014/09/targetlatino-enfold-logo1.png
Havi Goffan
2009-11-24 20:59:32
2018-03-28 03:49:44
Hispanics Celebrate Christmas In Uncertain Economic Times