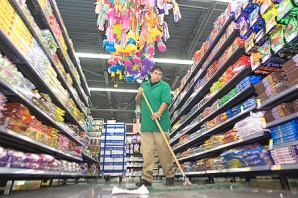 Publix tries to appeal to Hispanic market in Georgia
Hispanic buying power in Georgia has grown by 1037% since 1990, No wonder Publix tries to appeal to Hispanic market in Georgia!
Norcross store gets makeover with focus on items from Mexico
"Do you have the sombrero? Has it arrived yet?"
It's not the kind of question a grocery store manager overseeing the final details of a renovation would normally expect from a contractor. But for Marco Guillen, it's just all in a day's work.
Guillen is the point man on Publix Super Markets newest experiment — the first store outside of the company's home turf in Florida designed to appeal to Hispanic shoppers.
The store, located in a heavily Hispanic neighborhood that Census records show is predominantly Mexican in origin, features bilingual signs and shelves stocked with more than 1,500 new Mexican and Central American items brought into the store in recent months.
Where Hispanic foods were once isolated in a single aisle, they're now spread throughout the store. Dried guajillo chiles are piled up in a box in the produce section. Jarritos soft drinks take up shelf space near Coke and Pepsi products. Foca powder detergent is near the Tide. Colorful pinatas are scattered throughout.
"We really had to go out and challenge our suppliers to go out and get us items that are traditionally Mexican. Not Mexican-American, but Mexican," said the company's Atlanta spokeswoman, Brenda Reid.
The store also features a salsa bar, deli items meant to appeal to the Hispanic palate and an expanded number of Western Union terminals, popular with Hispanic immigrants sending money home. About half of its employees are bilingual, recruited from Publix stores all over metro Atlanta, Reid said.
The store has been slowly rolling out the changes for months. It formally debuts Thursday with a grand opening featuring a mariachi band and other festivities.
The effort is rooted in rising Hispanic buying power and increasing competition from ethnic groceries that cater to the fast-growing Hispanic and Asian communities, Reid said.
Hispanic buying power in Georgia has grown by 1037 percent since 1990, outstripping the 194 percent growth for the overall market by more than five times, according to the Selig Center for Economic Growth at the University of Georgia.
Hispanics now account for 5.1 percent of Georgia's buying power and are projected to outpace the growth by all other ethnic groups, according to the center.
A spokesman for Kroger, metro Atlanta's leading grocer, said his company hasn't explicity labeled any one store to appeal to a specific demographic. But Glynn Jenkins said the company adjusts each store's product mix to appeal to local tastes.
Publix tries to appeal to Hispanic market in Georgia
Guillen said the changes at his store have gone over well with both Hispanic and non-Hispanic customers. The store's bright new color palette and the fact that the store only eliminated a handful of unpopular items to make way for its new Hispanic product mix continues to bring in customers of all stripes, he said.
Source: The Atlanta Journal-Constitution – Michael Pearson
https://hispanic-marketing.com/wp-content/uploads/2010/03/Walmart_Andrea-Bloom.jpg
198
298
Havi Goffan
https://hispanic-marketing.com/wp-content/uploads/2014/09/targetlatino-enfold-logo1.png
Havi Goffan
2009-07-16 13:26:27
2018-03-27 05:12:01
Publix tries to appeal to Hispanic market in Georgia