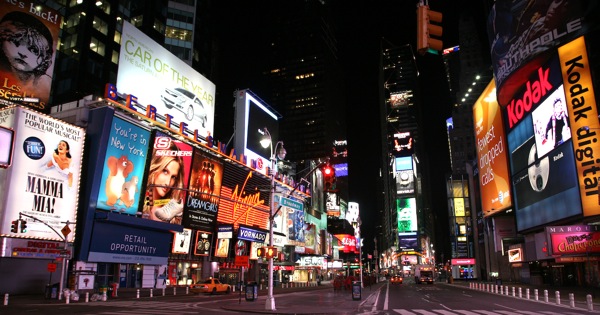 OOH Digital Video Display Audience Exceeds 155MM Per Month
New Report Benchmarks the Size of the U.S. Digital Video Display Market
Approximately 155 million (67 percent of) U.S. residents aged 18 or older have seen an Out-of-Home (OOH) digital video display, in the past month, at one or more of 17 types of public venues according to a new study by Arbitron Inc. (NYSE: ARB). The Arbitron Out-of-Home Digital Video Display Study 2009 shows that the general audience for OOH digital video displays represents a cross-section of American consumers, and closely mirrors the average U.S. population.
Seventy-six percent of those who recall seeing digital video displays in the past month noticed seeing them at multiple venues. Digital video screens in retail locations alone (including grocery stores, large retailer/department stores, drug stores, shopping malls or convenience stores) reach more than 123 million (53 percent of) American adults in an average month.
"Out-of-home digital video displays, in most cases, broadcast advertising and content that are created for public environments and are distinct from network or cable TV viewing away-from-home," said Alton Adams, Chief Marketing Officer, Arbitron Inc. "This Arbitron study focuses on this expanding market and is designed to provide insight to help advertisers target certain consumer groups including affluent households, male adults, young adults and Hispanics using OOH digital video networks."
Audience Profile by Venue Type
According to the Study:
Nearly one in five (18 percent of) Americans aged 18 or older noticed a video screen in a place serving food or beverages in the past month; 21 percent of adults have seen video displays at a movie theater.
Twenty-two percent of U.S. adults have viewed a video screen at a gas station in the past month; 19 percent have seen video displays at an airport during the same time period and 7 percent have noticed video content while waiting for or riding mass transit.
One in seven adults (14 percent) has noticed a video display in an office building or elevator in the past month.
Nineteen percent of American adults have seen a video screen at a doctor's office or hospital in the past month and 7 percent have viewed video content at a health club.
Targeting Consumers by Venue
According to the Study:
A person watching video content in a bar is 53 percent more likelyto be a young adult than the population at large.
A person watching a video display in an elevator is 88 percent more likely to live in an affluent household.
A person watching a video screen at a sporting event is 27 percent more likelyto be a man than the population at large.
A person watching a video display at a transit hub is twice as likelyto be Hispanic compared to the population at large.
How the study was conducted
Arbitron and Edison Research interviewed a total of 1,666 people from January 16, 2009 to February 15, 2009. Telephone interviews were conducted with respondents aged 18 and older who were chosen at random from a national sample of Arbitron's Fall 2008 survey diarykeepers. In certain geographic areas, a sample of Arbitron diarykeepers was not available for the survey and a supplemental sample was interviewed via random digit dialing (RDD). Diarykeepers represented 70 percent of the completed interviews and RDD sampled respondents represented 30 percent.
Source: Arbitron Inc.
https://hispanic-marketing.com/wp-content/uploads/2009/08/digital-video-display.jpg
315
600
Havi Goffan
https://hispanic-marketing.com/wp-content/uploads/2014/09/targetlatino-enfold-logo1.png
Havi Goffan
2009-08-17 14:06:34
2018-03-27 03:35:48
OOH Digital Video Display Audience Exceeds 155MM Per Month