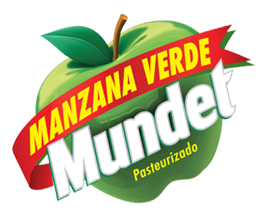 Mundet, the Wonderful Apple Soft Drink Centenario Promotion
Mundet announces the first winner of its national Centenario promotion — Julissa from Calexico, California. This contest commemorates the 100+- year heritage of Mundet, offering exciting prizes under special gold bottlecaps that can be found on Mundet Manzana Verde (Green Apple) and Sidral (Original Red Apple) Mundet bottles.
Mundet, the delicious apple-based soft drink which has been a part of the Mexican heritage since the early 20th century, is celebrating its 100+-year heritage with an exciting Centenario promotion. Consumers have the opportunity to win exciting instant-win prizes located under special gold bottlecaps found on Mundet Green Apple and Sidral Mundet glass bottles. The grand prizes are Centenarios, Mexican bullion coins created in 1921 to honor the 100-year anniversary of Mexico's independence from Spain, with an approximate value of $1,500 each. Additional prizes include T-shirts and teddy bears.
The first Centenario prize winner was Julissa from Calexico, CA. The Centenario promotion is national in scope. Consumers still have a chance to win prizes, including more Centenario coins, because the promotion is scheduled to run through May, 2010, or until all prizes are awarded.
Mundet soft drinks are known for their unique and delicious real-apple flavor. Sidral Mundet does not contain any flavoring (natural or artificial), since its unique flavor comes from real apples. Mundet is popular with adults and children, and is considered by many to have health benefits due to its pasteurization process and since it does not contain caffeine. Many Mexican mothers use Mundet as a hydration fluid for their children.
Since 1988, Mundet soft drinks have been distributed in the United States exclusively by Novamex (www.novamex.com). Mundet is currently one of the best-selling Mexican soft drinks in the US. Novamex is a leader in the marketing and distribution of authentic Mexican products in the United States, including Jarritos, Mineragua and Mundet, delicious soft drinks with the great authentic flavor of Mexico. In additional to product sales, marketing and distribution, Novamex provides educational and sports opportunities to children and youth in high-Hispanic markets throughout the United States, and assists hundreds of churches and non-profit organizations through the donation of soft drinks that can be sold for fundraising purposes.
Source: Mundet
https://hispanic-marketing.com/wp-content/uploads/2009/07/manzanitaVerde.png
218
256
Target Latino
https://hispanic-marketing.com/wp-content/uploads/2014/09/targetlatino-enfold-logo1.png
Target Latino
2009-07-22 13:23:07
2018-03-27 04:31:35
Mundet, the Wonderful Apple Soft Drink Centenario Promotion