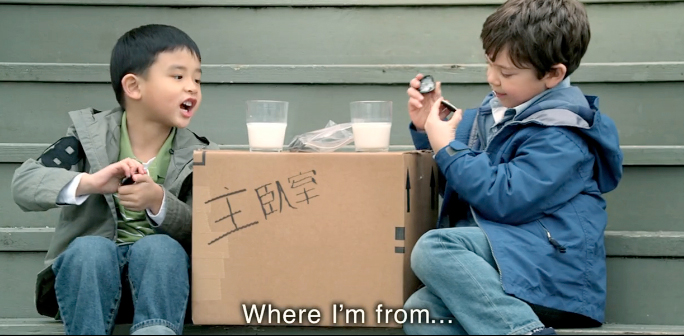 Multicultural marketing is not something that only happens in the U.S. Kraft Canada dunked its Oreo cookies in the Canadian multicultural scene with this new 30-second TV commercial. The famous Oreo cookie – which somehow seems to capture my attention and get back into my blog once again – bridges multicultural experiences in a simple and emotive way.
Multicultural marketing for Oreo Canada commercial
"Moving Day" opens with a little boy arriving at a new neighbor's house with two glasses of milk and a bag full of Oreo cookies. He finds a boy his age who only speaks Mandarin but the two are able to communicate through the way they eat their Oreo cookies.
The commercial ends with the tag line: "Only Oreo."
You can see the 30 second ad here
The overall concept was developed by the brand's creative agency Draft FCB Canada, but Kraft also worked with multicultural marketing agency Kang & Lee Advertising.
Kraft stated that Kang & Lee helped them understand how to make sure they could reflect the reality of what a new Canadian family moving in would be bringing with them and how they would be dressed.
By: Claudia "Havi" Goffan
The following two tabs change content below.
Multicultural Marketing Technologist. Keynote speaker on culture, inbound marketing and Pinterest. Featured in CNN en Español, CNN, Adweek, AmEx Open Forum, Univision, Telemundo, HufPo, AARP Viva, among other media. Judge, Festival Iberoamericano Promociones (FIP)
Latest posts by Havi Goffan (see all)