A Latinos Online 2012 study was presented by comScore, world leader in measuring of the digital world. The Latinos Online 2012 study shows a mexican online population reaching 27.9 million unique visitors in June 2012 and consumed an average of 20.5 hours per month per visitor.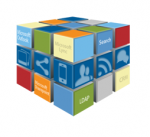 Other important discoveries included in the report are:
Mexicans consumed 7.8 hours/month per visitor on social networks
Politics sites saw a 384% growth in the a month of visitors since last year
81.7% of the Mexican internet audience watched online videos
The biggest amount of visitors to retail sites were made in Hardware and Computer Software
3 of 5 internet visitors in Latin America are 35 or younger
Venezuela, Colombia and Mexico have the youngest users online
Google sites are the most visited destination in Mexico, Facebook has the most activity
Mexicans access instant messaging, blogs and photography sites more than the global average
Facebook leads and will continue to grow; LinkedIn and Tumblr have an impressive growth in Mexico
8.7 hours consumed on Facebook on average per visitor in Mexico. 90% penetration in Mexico
Youtube is the most popular entertainment site in Mexico, reaching 76% of the audience
Mexican users see 157 videos on average per user
Mexican visitors of business/finance sites is still the lowest in the region.
Windows Live Messenger is overwhelmingly the favorite of Mexico.
Sites for lifestyle, in particular those focusing on women and family visits lead the community.
Education sites attract 42% of Web population in Mexico.
The UNAM is the most visited site in Mexico in the Education category.
Mexico leads together with Chile in traffic of mobile devices connected in the region.
Brazil and Mexico are the most used tablets.
Source: comScore
Image: Shutterstock
https://hispanic-marketing.com/wp-content/uploads/2012/11/latinos-online-study.jpg
345
615
Havi Goffan
https://hispanic-marketing.com/wp-content/uploads/2014/09/targetlatino-enfold-logo1.png
Havi Goffan
2012-11-13 14:36:04
2018-03-26 23:58:28
Latinos Online 2012 Study